Horseley is situated
approximately 5km west of the village of Reston in Berwickshire.

The farm has been in the family since around 1870.

In general, the farm has a northerly aspect, occupying as it does, the northern side of Horseley Hill. The ground slopes down to Brockholes burn on the northern march and the main east coast mainline/A1 corridor to the east. Heights range from 260m above sea level by Horseley Hill, down to approximately 80m next to the Eye Water in the south eats corner of the farm.

The land is mostly Class 4 and the main enterprises are the sheep flock of 1000 half-bred ewes and arable crops consisting of approximately 30ha of Wheat and 100Ha of Spring Barley. The lambs leave the farm finished and to this end, approximately 14ha of fodder rape is grown as winter feed. Additionally, 46 cows and followers are kept with stock leaving the farm finished.

The farm landscape is outlined by numerous drystone dykes and a number of small plantations have been established over the years. The northern corner of the farm contains a small area of semi natural woodland along the steep sides of Brockholes Dean.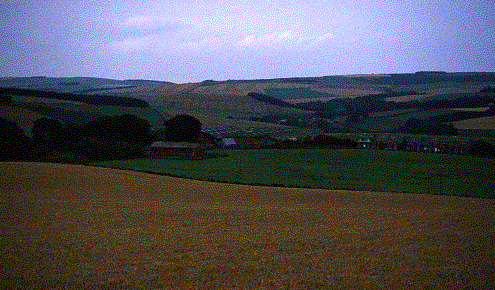 Horseley
This farm plan was carried out under FMD precautions so fields containing stock were not entered. However, most of the habitats were able to be looked at in some detail.
The objective of this Conservation Plan is to highlight the inherent conservation value of the whole farm by looking in turn at each habitat and drawing attention to itís importance for all manner of wildlife. The plan sets out to indicate where and how these habitats and farm operations might be enhanced, and, where this would incur a financial outlay, suggest means of financial assistance such as agri-environment schemes. The recommendations and advice are given with the full understanding that the farm business must remain financially viable.
Through this plan, it is our aim that some of the measures suggested herein will go some way to addressing the goals set out in the Biodiversity Action Plan for Grey Partridges and hopefully see some sort of improvement in their numbers in the near future.
3.

Workguide
Refer to Management Map for Site Nos.
| | | | | |
| --- | --- | --- | --- | --- |
| Site No. | Operations | Possible Grant Source | 3 | z |
| 1 | Gap-up existing hedge | RSS/BTGS | | |
| 2 | Coppice & replant old hedge | RSS/BTGS | | |
| 3 | Establish new hedges | RSS/BTGS | | |
| 4 | Future management: Fell & Replant with broadleaves | FC | | |
| 5 | Clear standing timber & wind-blow; replant with broadleaves. | FC | | |
| 6 | Plant individual landscape trees | BTGS | | |
| 7 | Maintain margins by dyke-back | | | z |
| 8 | Establish Beetlebanks/grass margins | RSS | | |
| 9 | Establish Conservation Headlands | RSS | | |
| 10 | Fence off water margins an plant small number of water-side trees | RSS | | |
| 11 | Re-instate farm pond | RSS/SNH | | |
| 12 | Create new pond/wetland area | RSS | | |
| 13 | Manage set-aside for wildlife | | | z |
| 14 | Manage species rich grassland | RSS | | |
| 15 | Maintain dykes in present good condition | RSS | | |
| Whole Farm | Predator control and supplementary feeding | | | z |
| 16 | Leave dead/decaying timber as insect habitat. | | | z |
| 17 | Establish Game cover/Unharvested Crop | RSS | | |
| 18 | New amenity woodland | FC/BTGS | | |
3 - Work Done
z - Zero Budget
RSS Rural Stewardship Scheme SNH Scottish Natural Heritage
BTGS Borders Tree Grant Scheme
FC Forestry Commission Woodland Grant Scheme/
Farm Woodland Premium Scheme